Species: lagomorph
Rabbit- or hare-shaped. The biological order includes pikas too and is distinct from rodents.
Related tags:
Other rankings:
bear - Polar bear, panda, etc.
bovine - Buffalo, cattle
canine - Dog, fox, wolf
caprine - Goat, sheep
cetacean - Whale, dolphin
cervine - Deer
equine - Horse, zebra
feline - Cat, lion, cheetah, panther, etc.
lagomorph - Rabbits
marsupial - Kangaroo, opossum, koala
monotreme - Platypus, echidna
mustelid - Weasel, ferret, etc.
porcine - Pig, boar
rodent - Mouse, rat, squirrel, beaver, etc.
Recent Posts
ANIM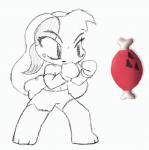 ↑2
♥3
C1
U
↑7
♥6
C4
PU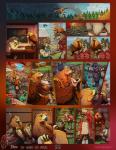 ↑14
♥25
C10