Species: cyclops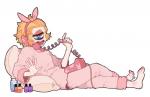 In ancient Greek Mythology, the cyclopses are a species of giants with a single eye in the center of their foreheads. Though strong, they were not mindless brutes, but were skilled blacksmiths and shepherds: sons of the Gods. In one legend, it was they who created Zeus's thunderbolt, Poseidon's trident and Hades' helmet of invisibility, which were used to defeat the Titans.
In more modern times, cyclops are often envisioned as ravenous brutes that would devour a human or a cow without a second thought.
There are many one-eyed creatures in Earth's mythology, and in truth, many 'Cyclops' pictures have more in common with various Japanese Youkai, like the Hitotsume-kozō, which appears as a bald-headed child with a single large eye, or the ogres from popular franchises like Warcraft.
Related tags:
Not to be confused with: