Species: tiger
A tiger is a large carnivorous feline. There are several subspecies of tiger, such as the Bengal tiger and the Siberian tiger, however, they are all very visually similar.
The typical tiger has orange fur, white fur, with black-striped fur. However, tigers can also come in a few different colors.
Most common is the white tiger, which is white with black stripes. They are not albinos, they simply lack the ability to make orange pigments. Their eyes are usually blue. That said, albino tigers have been known to exist, and would have red or pink eyes.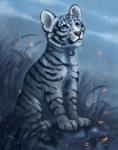 It is also possible for a white tiger to be born with nearly invisible or pale stripes. These rare creatures are known as snow tigers.
Golden tigers (sometimes known as 'golden tabby tigers' or 'strawberry tigers') are orange like a typical tiger, though the orange color is typically a paler shade. The black stripes have been replaced with stripes that are a dark brown, or orange.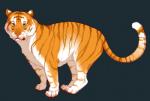 There is evidence that suggests that a maltese tiger, or "blue" tiger could exist in reality, however, none have been confirmed. The "blue" name is a bit of a misnomer, as 'blue' cats are a dark gray. A "blue" tiger would likely be dark gray, with slightly darker striping, much as a panther's spots are still visible. Of course, in art, liberties may be taken.
While melanistic tigers are also possible, they're unknown in realisty, minus a few tigers with exceptionally wide stripes. However, Black Tigers, in the realm of fantasy, may be black furred with stripes of another color, be it lighter or darker.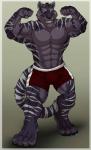 See also:
Tiger Colorations:
Species:
External links: