Character: thorax (mlp)
Thorax is a male changeling and supporting character who appears briefly at the end of the season six episode The Crystalling - Part 2 before making his prominent debut in The Times They Are A Changeling. In the season six finale, he becomes the new leader of the changelings following the defeat of Queen Chrysalis.
In contrast to other changelings such as Kevin, Thorax has somewhat wholer ears and tail, slightly differently-colored eyes, and differently-colored back armor. Following his metamorphosis in To Where and Back Again - Part 2, Thorax is much taller, and he has a different color scheme—matching that of S06E26 Unnamed Changeling #2 beetle-like mandibles protruding from his forehead.
In entomology, the term "thorax" refers to the midsection of an insect's body.
Family:
Recent Posts
ANIM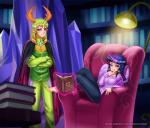 ↑12
♥15
C3
↑11
♥10
C3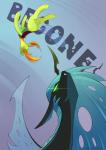 ↑12
♥20
C6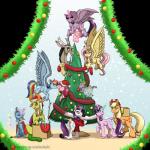 ↑9
♥11
C1