General: master sword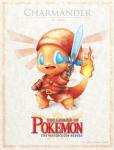 The Master Sword, also known as the Blade of Evil's Bane, the Sword of Time, and several other names is a recurring sword in The Legend of Zelda series. It is imbued with the power to vanquish evil.
The Master Sword is a double-edged longsword with no fuller and a purple or blue hilt. The sword's crossguard is noticeably large and elaborate in relation to its pommel, and is reminiscent of the seal of Hyrule's Royal Family. The blade possesses a ricasso, although Link is never portrayed using it. The Triforce is engraved on the base of the blade, and embedded in the crossguard is what appears to be a yellow gemstone.
See also:
External:
This tag implies the following tags: sword