General: improvised weapon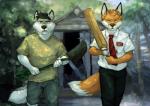 This tag is used when a character is using an object as a weapon that was not intended to be one or in some cases, used in an unconventional way (eg. using a tank turret as a club).
Do not use weapon-specific tags (eg. holding_weapon) for improvised weapons.