Character: bane (batman)
Bane is a villain most known for appearing in DC Comics publications, often serving as a rival or outright antagonist of Batman. Bane's debut appearance took place in Batman: Vengeance of Bane #1, a comic book that came out on January 1993. Possibly his most popular incarnation was done by English actor Tom Hardy in the 2012 film The Dark Knight Rises. The character is almost always portrayed as a muscular male in a masked outfit with an instinctual cunning and a ruthless, cruel streak.
"No one cared who I was until I put on the mask."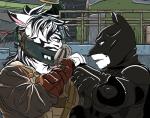 See also: