Character: anon
Short for the word "anonymous", this stands for a character whose identity is deliberately left unrevealed. Anon serves as an avatar for people to anonymously insert themselves in a story or setting without revealing who they are. More specifically, two iterations of the "Anon" character are generally used when depicted on the Internet.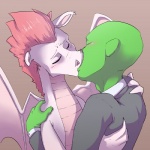 Usually portrayed as a bald human male with green skin, often wearing a business suit. The eyes are almost always omitted, where they will be replaced with either the text "picture not found" or a question mark to highlight facial expressions.
The Tumblr anon
Usually portrayed as a bald human as well, albeit with grey skin. The head tends to be simplified and more rounded to mirror the default Tumblr avatar. Also in line with the default avatar is the oversized sunglasses.