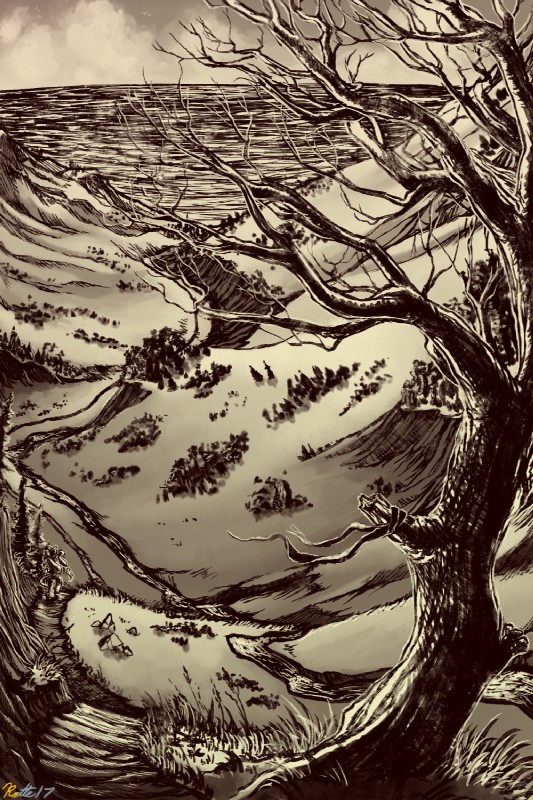 ▼ Description
Last Stop - by Ratte
"Yeah!" cried my very excited brother.
"And Veran?"
"...I'm ready."
"Are you sure?"
"Yes, I'm sure."
"I'm really glad to hear it."
<[i]Step after step.
Slowly but surely we move forward. As long as we kept moving, no matter how slowly, we moved forward.
Turn around the bluff, see the ocean.
...The ocean?
My brother brings his hands to his mouth with a gasp.
Even I can feel my eyes grow.
We've only heard stories of places like this.
To see it, though, with our own eyes?
The hills and valleys; the grass, bushes, and trees.
The winding river along the crude road, and the ocean beyond it all.
It was real.[/i]>
"Wooow," came forth the tiny child. "I've never seen anything like this before!"
"I've heard of some places like this from strangers passing through, but..."
"'But'...?" Monty inquired.
"...But only ever heard. This is..."
"Amazing!" Tyler oh-so-proudly finished, taking in all the scenery.
Even I had to laugh.
"See that little town near the coast?" Monty asked. "That's our final stop."
"Candor?"
"Yup!" he smiled. "I've another name for it, though. You might too after a while."
"What's that?" Tyler asked.
"Home."
---
I hope you have enjoyed this miniseries.
Please consider supporting me on Patreon if you like my work: https://www.patreon.com/ratte