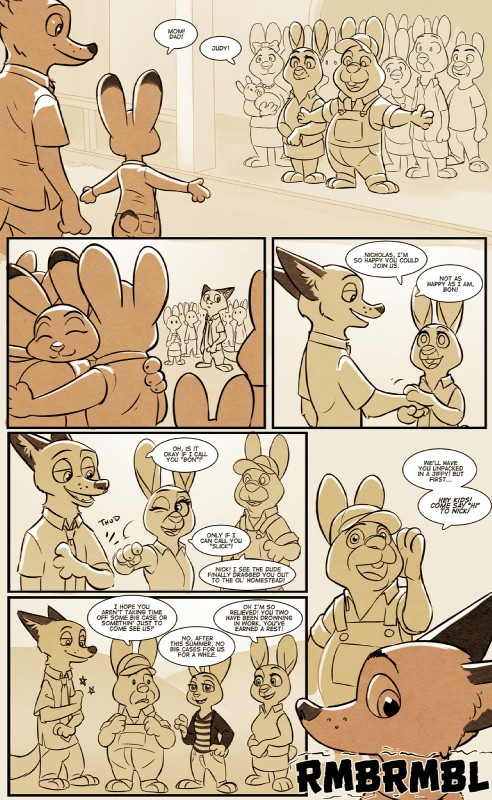 ▼ Description
▼ Artist's Description
Water under the Burrows
Finally, the first chapter of this project is ready for posting! I'm very pleased to present to you Water under the Burrows chapter 1: Welcome Home! Enjoy!
This whole story is quite a departure from my previous undertaking, not in the least because this time, I have a script writer telling me what to do! I won't be flooding your dash with waves of updates of this size unfortunately, it'll be more of a trickle but I hope to make weekly or biweekly updates, of a few pages at a time. It's rather a long story, I estimate it'll take me about 3 months to post the entire thing!
The more attentive among you might recall my obnoxious gushings from last year? Well, this story is the sequel to WriteAnon's Zootopia fanfic, Water under the Bridge. It's our take on the ever-popular "Wildehopps goes to Bunnyburrow" scenario, when newly-couple Nick and Judy can take a break from saving the city and instead tackle something really scary, meeting the parents!
Don't worry, we've worked very hard to make this story accessible to anyone that haven't read the original fic, but I still maintain that the story is well worth the read!
In other news, I've had some people ask me if I plan to make a Patreon. I don't, BUT I've decided to make a tip jar! If you think sleep is a waste of my time and would much rather I spend more hours per day drawing comics about talking animals, please do consider lessening the amount of thirst in the world by clicking the "buy me a coffee" button I HOPEFULLY will have already put at the top of my page.
For those of you that are curious, we're referencing July Talk, with their track The Garden in the first few panels!